We were all thinking spring has sprung, but now it looks like she's hung up on somethin.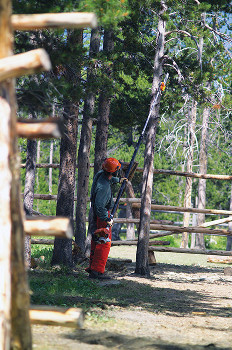 Nonetheless, it's a good time for all homeowners, sons and daughters of elderly homeowners, and good neighbors in general to take care of the damages the polar vortex inflicted. One of the first things to do is take a look at your gutters and downspouts. All of the ice this winter may have moved them out of level or loosened them. Make sure you have help stabilizing your ladder. Check out your siding as well for any roof shingle damage.
While the ladder and the help are around, check trees and shrubs for broken limbs from all that snow weight. Prune back damaged and dying branches. Use a polesaw or telescoping chainsaw to do it safely from the ground. Now is also a good time to evaluate any standing water or wet areas you have noticed. When the ground dries up a bit you may want to trench in some draintile, or run the sump pump drain out away from your foundation.  
Everyone wants to get their lawn going this time of the year. Always a good idea to aerate, then fertilize. Aerators are going to take out a core that will allow the grass roots to expand and thicken your lawn. Aeration also helps control the dead grass layer. If you have a thick thatch layer, 1/2 inch or more, you may want to dethatch. Don't go crazy though, a lot of that brown grass will green up! Now would be a good time to overseed if your lawn in sparse, or you want to get some new drought resistant, shade tolerant or sun tolerant varieties of grass introduced. Use a slitter to open up grooves in your lawn to accept the seed.  
I think spring is a great time to edge the sidewalks and driveway, before it becomes a big job. Edgers are gas powered and strong and make the job go quickly. Also, it's a good time to edge the planting areas around trees and shrubs, yank out the weeds and spread mulch. A bed edger will help keep the mulch in the planting areas.
Lastly, your black top driveway may have taken quite the beating with all of the snow, salt, shoveling, and freeze/thaw. Most of the sealer is gone and you could possibly have a few cracks. Rather than wait till fall, fill in the cracks and reseal it now so it looks nice all summer long. This will help create longevity too.